Rogue Creamery's Classic Grilled Cheese
Grilled cheese sandwiches are the perfect match for soups, especially tomato soup. This recipe was created by our friends at Rogue Creamery and they suggest using a mild bread of your choice—since this recipe is about the cheese. Sandwiches can be pan-grilled in butter or olive oil, or pressed in a panini press or sandwich maker. Rogue Creamery cheeses can be ordered online but this recipe is really flexible so feel free to get creative!
Another bonus: Rogue Creamery offered to give our readers a free 3.5oz wedge of their Organic Smokey Blue with the purchase of their Classic Grilled Cheese pack. You can take advantage of this promotion by using the promo code SMOKEY20. Add both the Classic Grilled Cheese Pack and the Smokey Blue wedge to your cart, then enter the promo code at checkout.
Note that we don't get any commission from linking you to them, we just love their cheese!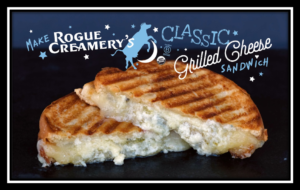 The Recipe
Makes 4 sandwiches
Ingredients
3.5 oz. Oregon Blue Cheese
Your favorite local honey
8 oz. Jefferson Cheddar
8 slices of bread
Cooking instructions
Crumble Oregon Blue cheese; set aside.
Shred (or thinly slice) Jefferson Cheddar; set aside.
Drizzle honey (to taste) over the inside of one slice of bread.
Sprinkle ¼ of the blue cheese on the honeyed bread.
Add ¼ of the cheddar on top of the blue cheese.
Top with second slice of bread.
Grill slowly until outside is brown and inside is gooshy—about five minutes.