The (in)credible science 
Many kinds of winter squash provide an excellent source of nutrients like vitamins A, B1, B6, C, calcium, folic acid and iron which are linked to a number of health benefits including improved eye health, reduced heart disease, and reduced risk of cancer. And recent research shows there can be additional benefits when you can access organic produce, particularly for growing children. A recent study in the journal Environmental Pollution found a strong connection between eating organic food during childhood and increased cognitive function, specifically higher fluid intelligence and higher working memory. 
The Recipe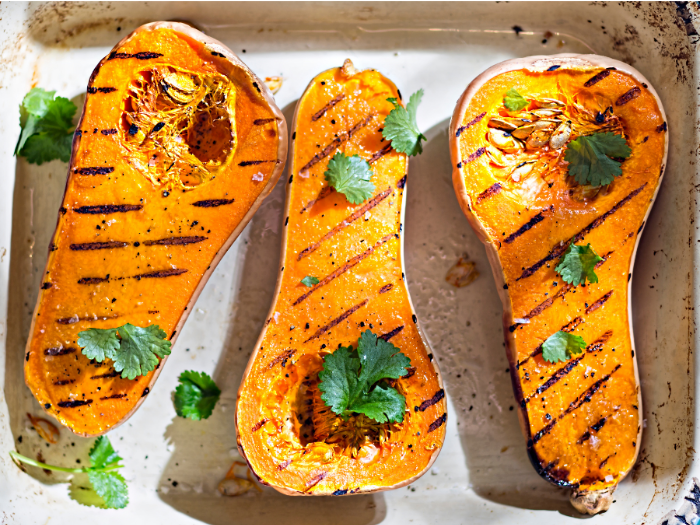 Roasted winter squash is easy to do and can be used in lots of different ways. It can be added to soups, salads, side dishes, main entrees and even desserts!  Many types of winter squash and pumpkins are interchangeable like acorn, butternut, kabocha, hubbard etc., but they all vary in their texture and level of sweetness, which should be considered when selecting for your favorite recipes. 
Ingredients 
Whole squash 

Olive oil
Salt
Instructions 
Preheat oven to 400 Degrees Fahrenheit
Method One:
Remove squash stem, cut in half and scoop out seeds with a spoon.

Coat the exposed flesh of the squash  with olive oil and place face down on a baking pan.

Cook for 30 minutes to 1 hr depending on the type and size of your squash. It will be ready when you can pierce the flesh easily with a fork.

Let cool and scoop out flesh to use in your favorite recipe.
Method Two:
Peel and cube the squash into 1 inch sized cubes. Some squash are really hard to peel or cut raw, in which case you can bake for about 10 minutes until it softens just a bit, then remove the skin and cube once cool enough to handle.

Coat the cubes in olive oil and sprinkle with salt (if using for a savory recipe) and create a single layer of cubes on a baking sheet. 

Cook for 30-45 minutes stirring occasionally until tender.

Let cool and use in your favorite recipe.
Banner Photo Credit: Lynn Danielson; unsplash.com
Photo Credit: Kim Daniels; unsplash.com
Categories:
Breakfast, Desserts, Entrees, Gluten free, Sides, Thanksgiving Recipes