Organic Valley's Creamy Chicken Pasta
The (in)credible science 
Creamy Chicken Pasta is a favorite for all ages in our household! Use organic dairy for your sauce to support farmers that raise cows in humane conditions with healthy diets so that your organic dairy can be served without antibiotics, synthetic growth hormones, or controversial pesticides. 
Learn more about the animal welfare and climate benefits of organic dairy here. 
The Recipe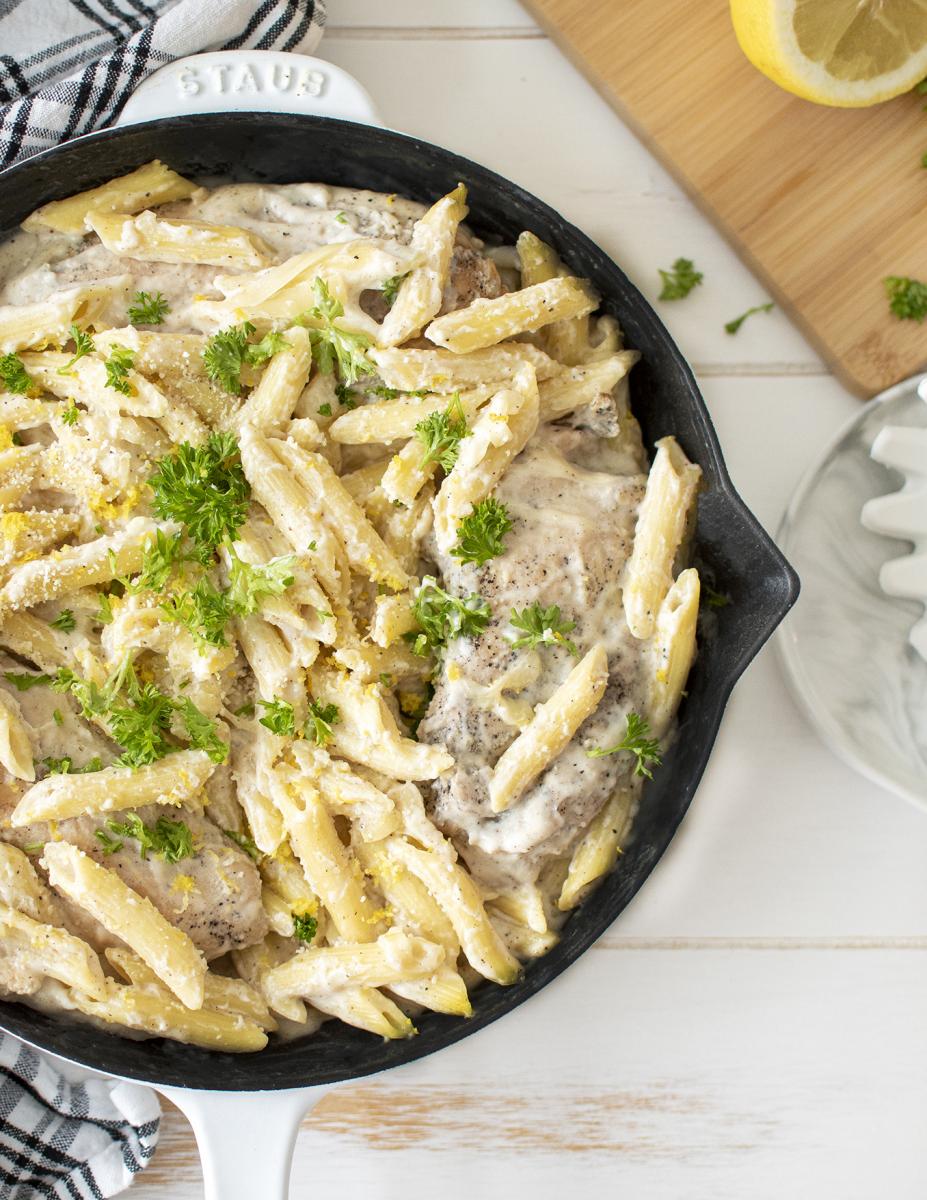 Organic Valley's Creamy Chicken Pasta is a quick and easy meal your whole family will enjoy – and it only takes 30 minutes to make! You can easily make this dinner gluten-free by subbing in gluten-free pasta and no one will know the difference. 
Ingredients 
8 oz. penne pasta (can sub gluten-free)
8 cups water
1 tbsp kosher salt
1/2 tbsp crushed black pepper
16 oz. Organic Prairie Chicken Breasts
1/4 cup chicken stock
1/4 cup Organic Valley Thick-Cute Shredded Mozzarella Cheese
1 lemon, zested
2 tbsp fresh parsley, finely chopped
1/2 cup seasoned Panko breadcrumbs, optional topping
Instructions 
Cook penne pasta in boiling, salted water per instructions on the package. Drain and reserve cooked pasta

Season the Organic Prairie Chicken Breasts with the kosher salt and black pepper. In a large skillet, add seasoned chicken, and sear over medium high heat. Add chicken stock to the skillet to deglaze, reduce heat to low and simmer for 7 minutes or until internal temperature is 165 degrees F.

Add creamy white sauce to the simmering pan and reduce heat to medium low. Place cooked pasta back into the pan and incorporate white sauce to coat pasta.

Reduce the sauce, pasta, and chicken combination until it envelops the ingredients in an Organic Valley farmer hug (when the white sauces coats the chicken and noodles, and everything is warmed for serving). Remember, you don't want to cook the noodles anymore here, otherwise they may become mushy.

Top the dish with Organic Valley Thick Cut Shredded Mozzarella Cheese, zest of 1 lemon, and chopped fresh parsley. You can add seasoned Panko breadcrumbs if you so choose.
Categories:
Entrees, Kids Recipes