Muir Glen's Smokey Pulled-Chicken Nachos
If you like nachos and smoky flavors then this recipe is for you! The sauce is made with smoky Roasted Muir Glen tomatoes, chipotle peppers and smoked paprika. Every pantry can benefit from the addition of smoked paprika to its stock, but if you don't have that on hand, then you can use regular paprika-- it just won't add that smoky flavor. This is a chicken recipe that can be served many ways: on nachos, tacos, or even on a bun piled high with your favorite slaw.
This recipe comes from our friends at Muir Glen.
The Recipe
This recipe is designed for use with an Instant Pot®, though if you're savvy with a crockpot then you can adapt.
Makes 8 servings
Ingredients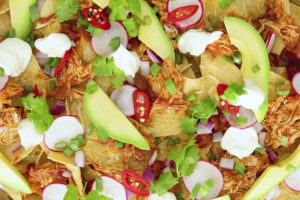 2 tablespoons olive oil
2 teaspoons smoked paprika
1 teaspoon salt
1 teaspoon dried oregano
1/2 teaspoon chili powder
pinch cayenne pepper
3-4 boneless skinless chicken breasts (about 2 pounds)
1 onion, sliced
4 small garlic cloves, chopped
2 chipotle peppers in adobo, chopped
2 tablespoons adobo sauce (omit if you are sensitive to heat)
1 (28 ounce) can Muir Glen Crushed Fire Roasted Tomatoes
Cooking instructions
Set Instant Pot® to saute function and add olive oil. Combine smoked paprika, salt, oregano, chili powder, cumin and cayenne in a small bowl and mix well. Season the chicken breast with half of the spice mixture and set the rest aside.
Once seasoned, add the chicken to the Instant Pot® and cook for three minutes per side. Remove chicken and set aside. Add the onion, garlic, and chopped chipotle peppers to the Instant Pot® and cook for about 5 minutes, stirring often. Add remaining spices and cook until fragrant, about one minute more.
Add chipotle sauce (if using) and Muir Glen Crushed Fire Roasted Tomatoes and bring to a simmer. Return chicken to pot and turn off sauté function.
Add Instant Pot® lid and set vent to the close or sealing position. Set the Instant Pot® to the poultry setting. When cooking time is up, let pressure release naturally for 15 minutes before manually releasing the rest of the pressure.
Once you are able to remove the lid, add chicken to a cutting board and shred with two forks. Remove one cup of the sauce and reserve for serving. Add shredded chicken back into the pot and stir to combine.
Serve in tacos, on top of nachos, or in a sandwich. Make sure to use corn tortillas, gluten free tortilla chips or bread to make this recipe gluten free.