Muir Glen's Fire Roasted Tomato Butter Sauce
This pasta sauce recipe is delicious, easy, and you likely already have everything you need in the pantry. The key is to use great butter, which lends a nutty sweetness to this dish, and fire roasted tomatoes. Leftover sauce can be used on pizza or served with eggs.
This recipe comes from our friends at Muir Glen.
The Recipe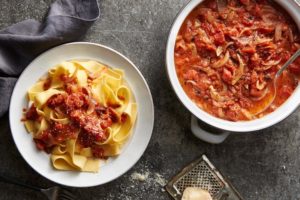 Ingredients
8 tbs European-style cultured unsalted butter, cubed
1 large sweet onion (vidalia or walla walla), peeled & thinly sliced lengthwise
1 28-oz Muir Glen Organic fire roasted diced tomatoes with juice
Salt and freshly ground black pepper, to taste
Parsley, finely chopped
Parmesan cheese, finely grated
Cooking instructions
Melt butter in a sauce pan.
Add onions and sauté until softened but not brown.
Add fire roasted diced tomatoes and juice to the pan.
Simmer for 30 minutes, then season with salt and pepper.
Serve with a sprinkle of parsley and Parmesan, to taste.
Serve over wide noodles or spaghetti.