Handsome Brook Farm's Sabich Salad with Amba Aioli
The Recipe
Sabich is an Israeli sandwich usually based on pita bread stuffed with eggplant and boiled eggs. Our friends at Handsome Brook Farms sent us this recipe from their partner Chef Einat Admony that turns the sandwich into a salad while showcasing organic eggs. The Amba aioli transforms the traditional Israeli condiment that features pickled mangoes into a creamy flavored mayonnaise. This is more of a slow-food style recipe, so you may want to double the quantity of ingredients and make a larger amount. This recipe makes 4 servings.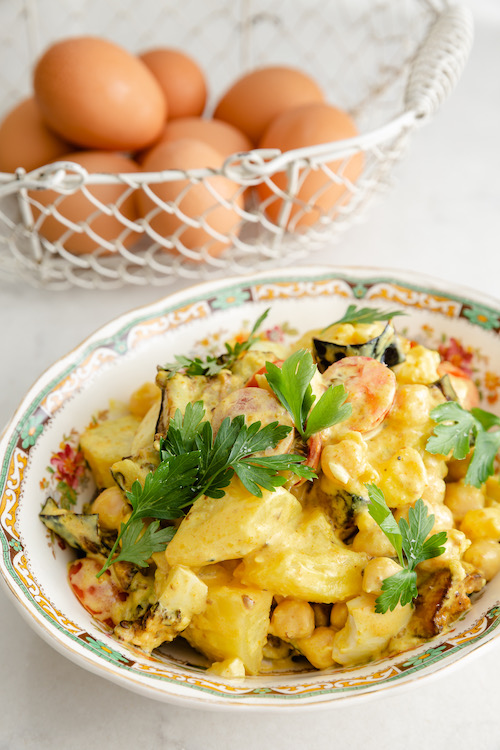 Ingredients
Sabich Salad
4 Handsome Brook Farm eggs
2 small potatoes, peeled
1 large eggplant (or two small), cut into large 1 1/2-inch cubes
1 cup canned or cooked chickpeas
½ pint cherry tomatoes, cut in half
1 teaspoon lemon juice
1 teaspoon salt
Vegetable oil for frying
Parsley for garnish
Amba Aioli (Makes about 1 1/4 cup)
2 tablespoons of water or orange juice
1 tablespoon honey
1 tablespoon amba powder
1 cup mayo
¼ teaspoon turmeric
1 small garlic clove, minced or grated
Cooking Instructions for the Salad
Boil whole potatoes with a generous pinch of salt for about 22-25 minutes, until center of the potato is tender. Remove and let cool slightly before cutting into ¼ rounds. Set aside.
For the soft boiled eggs, fill a small pot with water (about ¾ full) and bring to a boil with a pinch of salt (this makes the eggs easier to peel). Once boiling, carefully add in the eggs and cook for 7 minutes. Remove eggs with a slotted spoon and immediately transfer to an ice bath. Let eggs cool completely before peeling.
Fill another pot with enough oil to deep fry and fry eggplant in two batches for 5-7 minutes until a deep golden brown color. Stirring occasionally to make sure the eggplant fries evenly. Remove to a plate lined with paper towel to absorb any excess oil.
Instructions for the Aoili
Whisk water or orange juice with honey and amba powder.
Add to the mayo and whisk in turmeric and garlic until fully combined. If you would like to make it a bit thinner you can whisk in more water or orange juice one tablespoon at a time.
To Assemble
Toss together potato, eggplant, chickpeas, and tomato with lemon juice and salt.
Spread a layer of amba aioli on the bottom of a platter, top with potato mix.
Slice eggs into wedges and scatter on top, drizzle with more amba aioli and garnish with parsley leaves.