Buckwheat Pasta with Tofu and Sesame Vegetables
 The Research
Despite its name, buckwheat is not a grain.  It's actually more closely related to sorrel and rhubarb than wheat!  The seeds of buckwheat plants are ground into flour, and are known for having high levels of flavonoids.  Some of these flavonoids are more concentrated when the plant is grown under organic conditions.  For example, one study out of the Czech Republic found higher levels of rutin and epicatechin (two flavonoids with antioxidant potential) in organically grown buckwheat than conventionally grown buckwheat.  When you buy buckwheat noodles for this recipe look for organic ones to add a little antioxidant punch to your dinner!
The Recipe
Excerpted from"The Earthbound Cook" by Myra Goodman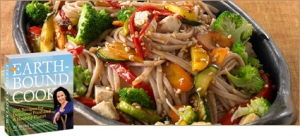 This is a perfect budget-friendly recipe that's great to remember when you need to make a dish for a potluck or a party. The key lies in having everything prepped and ready to go before you start cooking. First the tofu is sautéed to give it a golden crust; then while the pasta is cooking, the vegetables are quickly stir-fried. The result is an easy vegetarian dish loaded with tasty vegetables, beautiful colors and varying textures. One thing that we especially appreciate about this dish is that it's great hot, at room temperature, or cold right out of the fridge.
From The Earthbound Cook: 250 Recipes for Delicious Food and a Healthy Planet by Myra Goodman
Ingredients
½ cup soy sauce
1 tbs fresh lemon juice
2 tbs unseasoned rice vinegar
2 tbs toasted sesame oil
1 tsp ground ginger
1 tsp garlic powder
14 oz firm tofu (drained and cut into ½-inch-thick slices)
2 tbs kosher salt
8 oz buckwheat (soba) noodles
3 tbs plain sesame oil
3 tbs shallots (minced)
1 tbs fresh ginger (peeled and finely grated)
1 tbs minced garlic
2 cups broccoli florets
1 red bell pepper (stemmed, seeded and cut into 1/8-inch-thick strips, about 1-1/2 cups)
1 large carrot (peeled and cut into 1/8-inch-thick slices, about ¾ cup)
1 small zucchini (cut in half lengthwise and then cut crosswise into 1/8-inch-thick slices (about ¾ cup))
dash salt (to taste)
2 tsp toasted sesame seeds
Directions
Place the soy sauce, lemon juice, vinegar, toasted sesame oil, ginger and garlic powder in a large bowl and whisk to blend. Add the slabs of tofu and let marinate for 5 minutes.
Heat a large skillet, preferably cast-iron, over medium-high heat and add the tofu (reserving the bowl of marinade). Cook on one side until browned, about 2 minutes. Then turn the tofu over with a spatula and cook until nicely browned on the other side, 2 minutes. Transfer the tofu to a cutting board and cut it into 3/4-inch cubes. Return the tofu to the bowl containing the marinade.
Bring 4 quarts of water to a boil in a large covered pot over high heat. Add 2 tablespoons salt, and stir in the noodles. Cook according to the package directions until al dente, about 7 minutes.
While the pasta is cooking, heat the plain sesame oil in a cast-iron skillet over medium-high heat. Add the shallots, ginger, and garlic, and cook, stirring constantly, until aromatic, about 1 minute. Then add the broccoli, bell pepper, carrot and zucchini, and stir-fry until the vegetables begin to soften, about 4 minutes. Cover the skillet and cook until the vegetables are crisp-tender, another 2 to 4 minutes.
Meanwhile, drain the noodles and add them to the tofu. Season the vegetable mixture with salt, and add it to the tofu and pasta. Toss to combine, sprinkle with the sesame seeds, and serve
Banner Photo Credit: Vita Marija Murenaite; unsplash.com
Copyright 2010 by Myra Goodman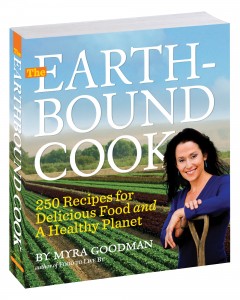 Used by permission of Workman Publishing Co., Inc. New York
All Rights Reserved